15 May 2017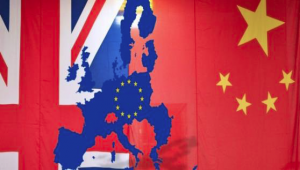 On 29 March the United Kingdom officially notified the European Union that it is leaving the EU. On the one hand the UK starts the tough negotiations with the EU, and on the other hand it starts to think of relationships with other major powers, with its future status as a non-EU member. What are the implications of Brexit to the relations between the UK and one of the largest economies in the world, China?  Could Brexit bring the end of the new Sino-British "special relationship"?
The Confucius Institute at Vrije Universiteit Brussel (VUB), the European Institute for Asian Studies (EIAS), and the Brussels Academy for China and European Studies (BACES) invite you to an academic debate on Brexit: The End of the Sino-British Golden Era? on 15 May 2017 in Brussels.
Speakers:
Prof. Dr. Huaipu Zhao, Director, Centre for European Studies, China Foreign Affairs University
Prof. Dr. Robert Geyer, Associate Dean, Faculty of Arts and Social Sciences, Lancaster University, UK
Prof. Dr. Zhanpeng Wang, Associate Dean, School of English and International Studies, Beijing Foreign Studies University
Prof. Dr. Shaun Breslin, co-Editor, The Pacific Review, University of Warwick, UK
Closing Remarks:
Prof. Dr. Xinning Song, China Director, Confucius Institute at VUB, and BACES
Moderator:
Senior Associate, European Institute for Asian Studies (tbc)
Date & time:
15 May 2017, 16.00-18.00, followed by a networking reception
Venue:
Asian Platform: Rue de la Loi 26, 10th Floor, 1000 Brussels
Registration: please go to this link.